IF60220T Series Metal tube laser cutter is also called tube laser cutting machine,which is used for cutting round tube,square tube and other metal tube. Pipe processing range 6000mm* φ10~220mm (square tube: 10*10-155*155mm).
IF60220T Series Metal tube laser cutter, specially designed for metal tube/pipe laser cutting. The double chuck structure can cut metal pipes with a diameter between 10-220mm. Equipped with 1000w-3000w fiber laser, the tube length can be 3m, 6m, 9m, with an independent cabinet with built-in air-conditioning, and an automatic loading and unloading device can be installed to realize automatic processing.
Application
IF60220T Series Metal tube laser cutting machine can cut the following metal tubes: round tube, square tube, rectangular tube, D-shaped tube, triangle tube, elliptical pipe and other diameter imaginable special-shaped pipe angle steel, channel steel and H-shaped steel.

Features
IF60220T Series Metal tube cutting machine frame and worktable adopts integrated welding made as standard large machine after stress relief annealing, machining on plano miller and then the vibration aging treatment. These sequence of processing of frames makes it high strength, high precision and keep the normal use of 20 years without deformation.
X and Y axis equipped with A.C servo motors and aluminum casted cross beam gives high precision, high speed, big torque, big inertia, performance stability and durabilit y, guarantee the high speed and ac celeration of the whole machine.The core drive components and control system are imported parts, with high acceleration and stable dynamic performance.It can realize automatic feeding, alignment and measurement of tube material, and realize efficient cutting.
The electric control box is equipped with intelligent temperature control system to realize stable operation under various extreme weather conditions such as high temperature and low temperature.The intelligent dual temperature control cold water system realizes the independent control of the laser and the optical system, and realizes the stable operation in the harsh environment.
Advanced CNC control system, it can read AI,PLT,DXF,Dst,Dwg and LAS directly, easy to operate.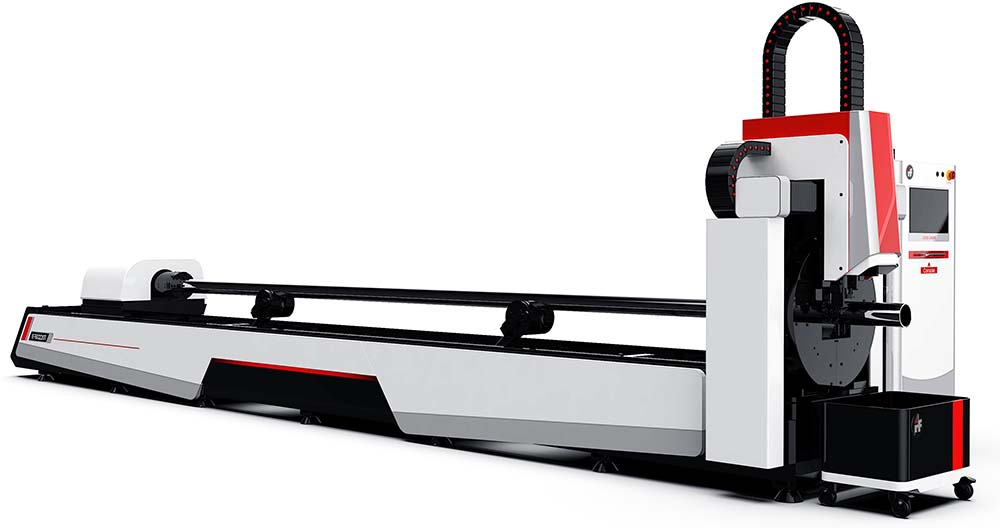 Industry application

Cut exhibition