Fiber laser marking machine adopts air cooling method, the laser beam quality is excellent, the electro-optical conversion efficiency is high, the energy consumption of the whole machine is very low, no maintenance is required, the service life is long,and the operating cost is low. Integrated overall structure, small size, suitable for working in harsh environments, and more suitable for fine marking.
Also, the laser has a long life and high stability. It is mainly composed of three parts: laser, vibrating lens and marking card. It uses fiber laser to produce laser marking machine. The beam quality is good. Its output center is 1064nm. The life of the whole machine is about 100,000 hours. Compared with other types of laser marking The life of the device is longer, and the electro-optical conversion efficiency is more than 28%. Compared with other types of laser marking machines,the conversion efficiency of 2%-10% has a great advantage. It has outstanding performance in energy saving and environmental protection.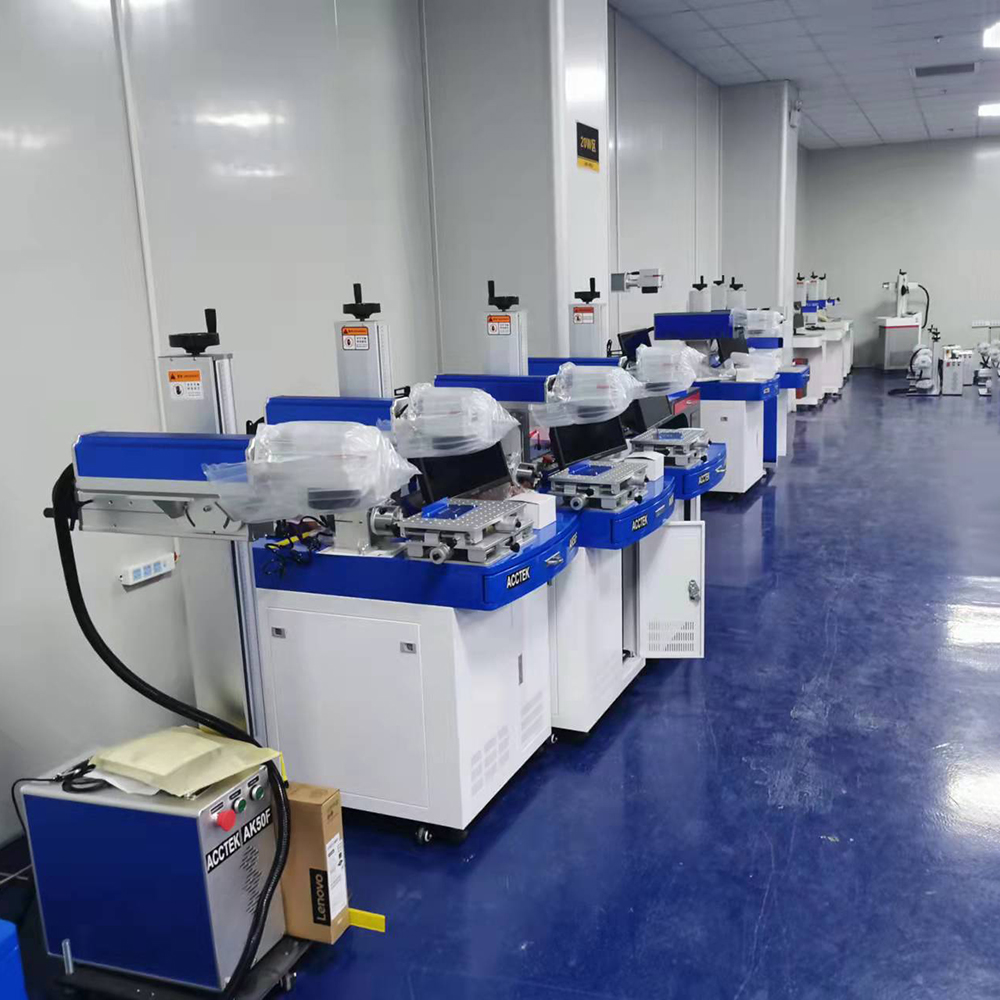 Application
Applicable Industries:
Precision instruments, computer keyboards, auto parts, plumbing parts, communications equipment, medical equipment , bathroom equipment, hardware tools, luggage decoration, electronic components, home appliances, watches, molds, gaskets and Seals, data matrix, jewelry, cell phone keyboard, buckle, kitchenware, knives, cooker, stainless steel products, aerospace equipment, integrated circuit chips, computer accessories, signs molds, elevator equipment, wire and cable , Industrial bearings, building materials, hotel kitchen, pipelines.
Tobacco industry, bio-pharmaceutical industry, liquor industry, food packaging, beverage, health care products, plastic
buttons,bathing supplies, business cards, Clothing accessories, cosmetics packaging, car decoration, wood, logos, characters,serial number, bar code, PET, ABS, pipeline, advertising logo and other non-metallic industries.
Applicable Materials:
All metals: gold, silver, titanium, copper, alloy, aluminum, steel, manganese steel, magnesium, zinc, stainless steel, carbon
steel / mild steel, all kinds of alloy steel, electrolytic plate, brass plate, galvanized sheet , Aluminum, all kinds of alloy
plates, all kinds of sheet metal, rare metals, coated metal, anodized aluminum and other special surface treatment, electroplating the surface of the aluminum-magnesium alloy surface oxygen decomposition.
Non-metallic: non-metallic coating materials, industrial plastics, hard plastics, rubber, ceramics, resins, cartons, leather,
clothes , wood, paper, plexiglass, epoxy resin, acrylic resin, unsaturated polyester resin material.
Feature
1. Long lifetime, over 100,000 hours.
2. High Speed: 7000mm/s,2 to 5 times more productive a traditional laser marker or laser engraver.
3. With good seal, capable to prevent dust and water, small volume, compact,super quality galvanometer scanning system.
4. High accuracy and repeatability for correct marks each time with galvanometer scanners and electronic controls.
5. The fiber laser beam comes out from the fiber laser source directly, no need to adjust the laser beam path.More stable performance.
6. Professional control board and marking software. The software controlling system has the interface of windows and comprises files output by software such as Coreldraw, AutoCAD, Photoshop etc. It can support various file formats such as AI,DXF,PLT,Dst,Dwg,LXD, etc.
7. Output power is stable, optical mode is good, beam quality is excellent.
8. High-precision and high-speed scan head,Marking speed is fast, efficient, and high accuracy.
9. Integrated Air Cooling System: Better cooling effect than water-cooling effect in YAG laser, no maintenance.
10.No Consumables: One machine can work for more 8-10 years without any consumables.