Fiber laser metal cutting machine with exchange platform can cut most of the sheet metals, metal plates, metal tubes, metal pipes. Greatly saving the cost of purchasing two kinds of machines, saving more than 50% of workshop space, doubling production efficiency.The metal tube cutting capacity is widely used in sports equipment, various types of pipe, water pipes, oil pipelines and other industries, it is suitable to cut various special-shaped pipe materials such as round pipe, square pipe, rectangular pipe, oval pipe, etc.
Users can choose the size and power of the machine's workbench according to the size and thickness of the materials they need to cut.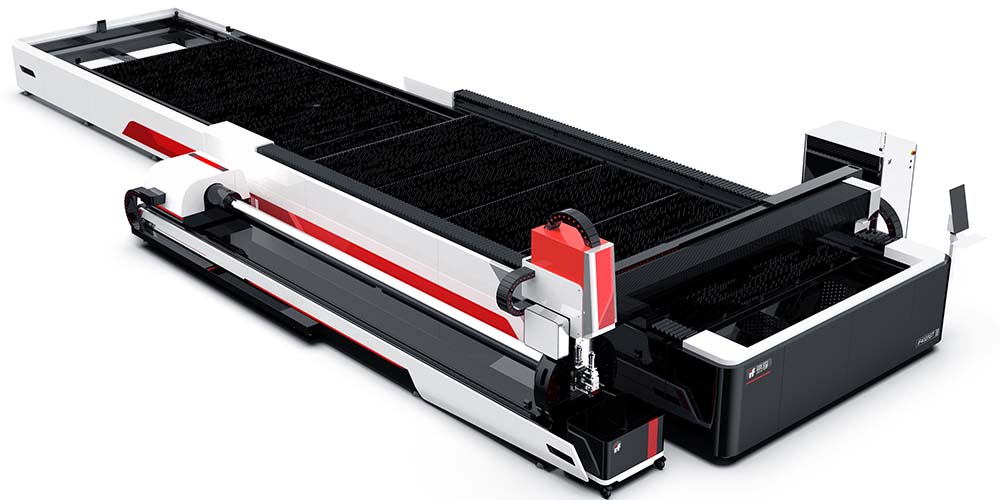 Feature
1.The machine adopts a moving gantry structure, imported high-precision rack and linear guide, stable transmission and high precision.
2.Up and down exchange platform, and the converter is responsible for controlling the exchanging motor.The machine is able to finish the platform exchanging within 15s.The bed adopts an integral welded structure, and the beam adopts an integral cast aluminum structure, which has higher accuracy and better stability. The bed and beam are rough processed after annealing, and then subjected to vibration aging treatment, which can completely eliminate the stress of welding and processing, good rigidity, high precision, can keep long-term use without deformation.
3.The CNC cutting machine realizes the core technology of full-time cutting, high-efficiency cutting and high nesting rate cutting , which is the fundamental guarantee for effectively saving materials and improving cutting efficiency.
4.It adopts Cypcut CNC system, which integrates many special function modules for laser cutting control, with powerful functions, good man-machine interface and simple operation.
5.The cutting head uses fiber laser special cutting head and capacitive sensor, which has high sensing accuracy, sensitive response, and the most stable and reliable performance.
6.The high-precision electronically controlled proportional valve imported from Japan can precisely control the air pressure of the cutting auxiliary gas to achieve the best cutting effect.
7. Use advanced pneumatic double-chuck clamping system. The self-adjusting center of the chuck automatically adjusts the clamping force according to the profile specifications to ensure that the thin tube is clamped without damage. Quick corner cutting system.
8.The X, Y, and Z axes are all imported Japanese servo motors with high precision, high speed, large torque, large inertia, stable and durable performance. Ensure the high speed and acceleration of the whole machine.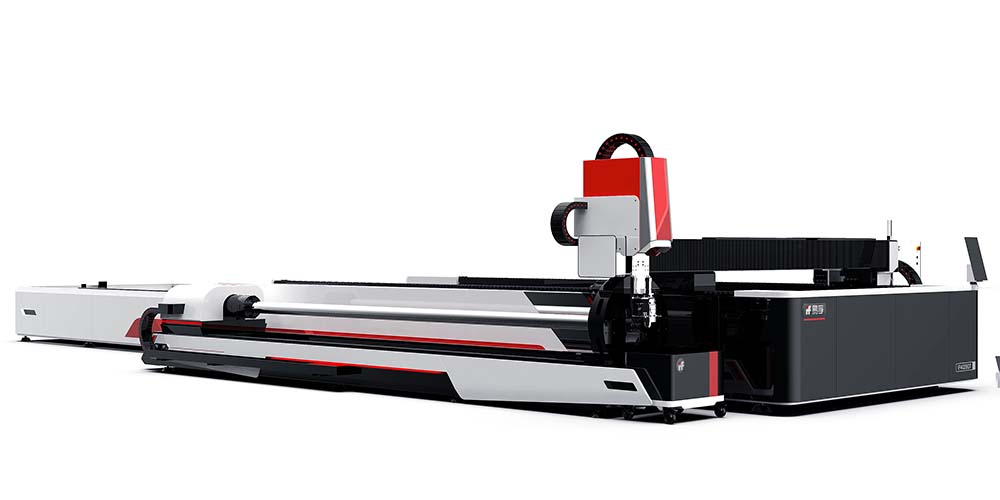 Applicable industries
The fiber laser cutting machine applicated in sheet metal processing, die-cutting, electronic,electrical appliance,aviation, cars,steamer, cutting tool, subway accessories, petroleum machinery, food machinery, craft gifts,tools processing, mechanical, elevator, decoration, advertisement, metal external processing and other manufactures.
Applicable materials:
The fiber laser machine is mainly used for cutting stainless steel, carbon steel, electrical steel, galvanized steel, aluminum zinc plate, aluminum, aluminum alloy, titanium alloy, copper, brass, iron and other metal materials.
Industry application

Cut exhibition