IF Fiber laser marking machine is a new generation laser marking system made with newest laser technique in the world.It design with fiber laser maker as laser source, and thru high-speed vibration-mirror scan system to actualize marking function.The fiber laser making machine have high conversion efficiency of electric-light, mainly used to the field which request high quality to deepness, smoothness and precision, such as horologe, communication products images marking etc.
Also, the laser has a long life and high stability. It is mainly composed of three parts: laser, vibrating lens and marking card. It uses fiber laser to produce laser marking machine. The beam quality is good. Its output center is 1064nm. The life of the whole machine is about 100,000 hours. Compared with other types of laser marking The life of the device is longer, and the electro-optical conversion efficiency is more than 28%. Compared with other types of laser marking machines,the conversion efficiency of 2%-10% has a great advantage. It has outstanding performance in energy saving and environmental protection.
Feature
1. Economic, with high performance cost ratio.
2. High performance and stability.
3. High speed, efficiency and accuracy.
4. High optical quality and small light spot.
5. Advanced software and be compatible with mass production.
Configuration
1. Fully enclosed design, Raycus laser source.
2. Power 20W/30W/50W/100W/150W.
3. Marking area 110*110-330*330mm or to be customized.
4. Well-known and high-quality components can be optional.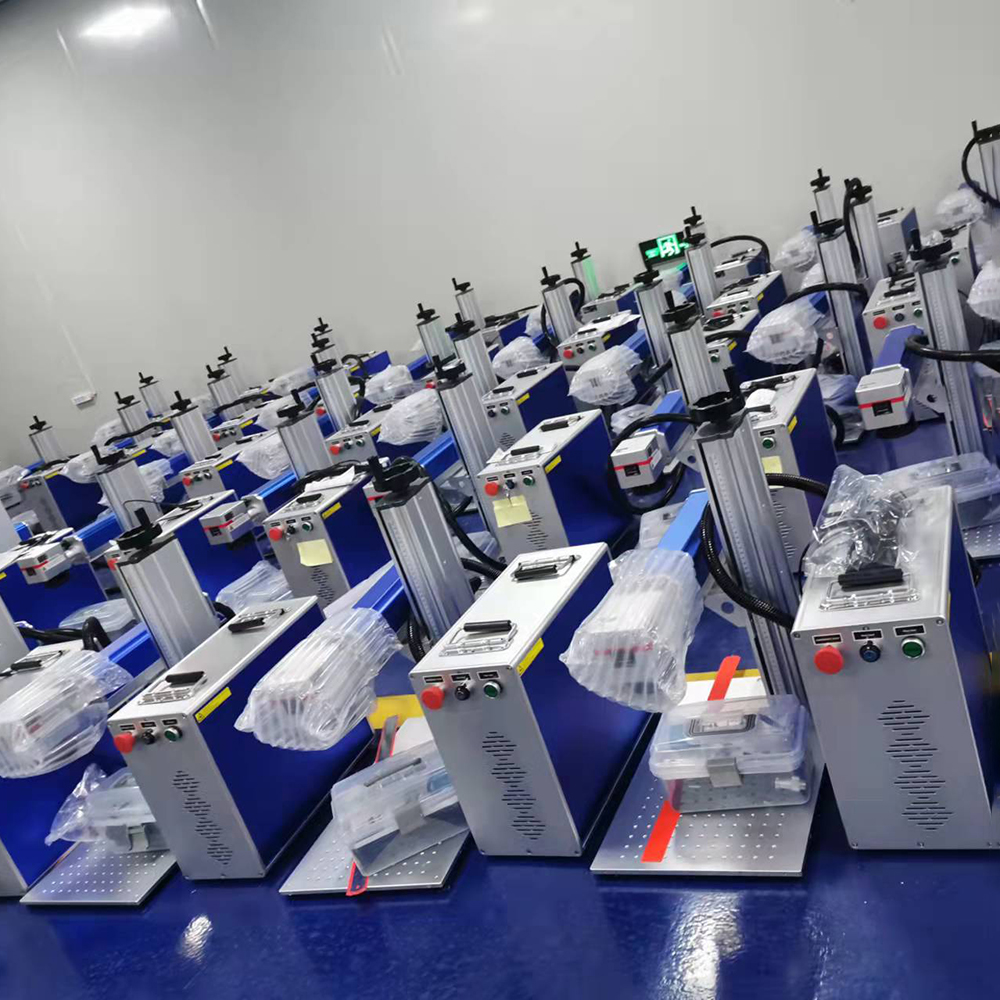 Application
Application Materials: Fiber Laser Marking Machine is suitable for metal engraving , For example , Stainless Steel Sheet, Mild Steel Plate, Carbon Steel Sheet, Alloy Steel Plate, Spring Steel Sheet, Iron Plate, Galvanized Iron, Galvanized Sheet, Aluminum Plate, Copper Sheet, Brass Sheet, Bronze Plate, Gold Plate, Silver Plate, Titanium Plate, Metal Sheet, Metal Plate, Tubes and Pipes, etc.
Application Industries: Fiber Laser Marking Machines are widely used in manufacturing Billboard, Advertising, Signs, Signage, Metal Letters, LED Letters, Kitchen Ware, Advertising Letters, Sheet Metal Processing, Metals Components and Parts, Ironware, Chassis, Racks & Cabinets Processing, Metal Crafts, Metal Art Ware, Elevator Panel Cutting, Hardware, Auto Parts, Glasses Frame, Electronic Parts, Nameplates, etc.