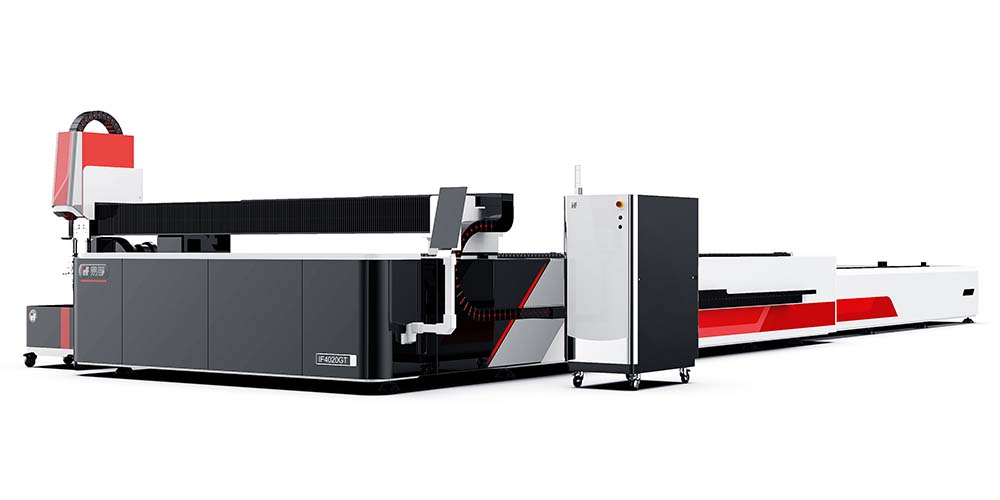 The fiber laser cutting machines are similar to pantographs but instead of the rotating spindle, they mount a head with a system of lenses that focus the laser beam in a single point of decimal dimensions, to facilitate and optimize the cut. They are machines that, moving on 3 or more axes, allow the cutting of various metals through a diode laser source transmitted on an optical fiber system with a yield of about 100 times higher than gas sources.
Fiber laser cutting machine has extensive use in cutting metal materials, such as steel, carbon steel, stainless steel, copper, aluminum, iron, and various alloys, whether in sheet, tube or pipe shapes. It falls into several types based on functions and appearance. For example, the fiber laser machine for cutting sheet, pipe, sheet & pipe, and the ones with exchange platforms, protective cover, high precision, etc.
The optical fiber laser thin plate and pipe cutting machine can cut metal thin plate or metal pipe respectively to meet the different needs of customers. The length of pipe and chuck diameter can be customized according to the needs of customers. Please contact us for details.
Features
1.Using the windows operating system based CypCut fiber laser cutting machine dedicated CNC system, integrated a lot of laser cutting control dedicated functions Module, powerful, simple operation.
2.The metal laser cutter adopts gantry type single-side double-drive structure, imported high-precision reducer, gear rack and linear guide, smooth transmission, fast acceleration, Bit precision.
3.Both the bed and the moving beam adopt the whole welded structure. After annealing, rough machining and vibration aging, the welding process can be completely eliminated. Processing of stress, rigidity, high precision, can be maintained for a long time without deformation.
4.X, Y axis with high-precision servo motors, bed movement performance greatly improved, acceleration up to 1.5G, to ensure that the whole machine has high speed and high acceleration performance.
5.Raytools Laser Head is capable of automatic height adjustment to maintain constant focal length and stable cutting quality.
6.Germany high-precision electronic proportional valve, precise control of cutting auxiliary gas pressure, in order to achieve the best cutting results.
Application
Applicable industries
The fiber laser cutting machine applicated in sheet metal processing, die-cutting, electronic,electrical appliance,aviation, cars,steamer, cutting tool, subway accessories, petroleum machinery, food machinery, craft gifts,tools processing, mechanical, elevator, decoration, advertisement, metal external processing and other manufactures.
Applicable materials:
The fiber laser machine is mainly used for cutting stainless steel, carbon steel, electrical steel, galvanized steel, aluminum zinc plate, aluminum, aluminum alloy, titanium alloy, copper, brass, iron and other metal materials.
Industry application

Cut exhibition