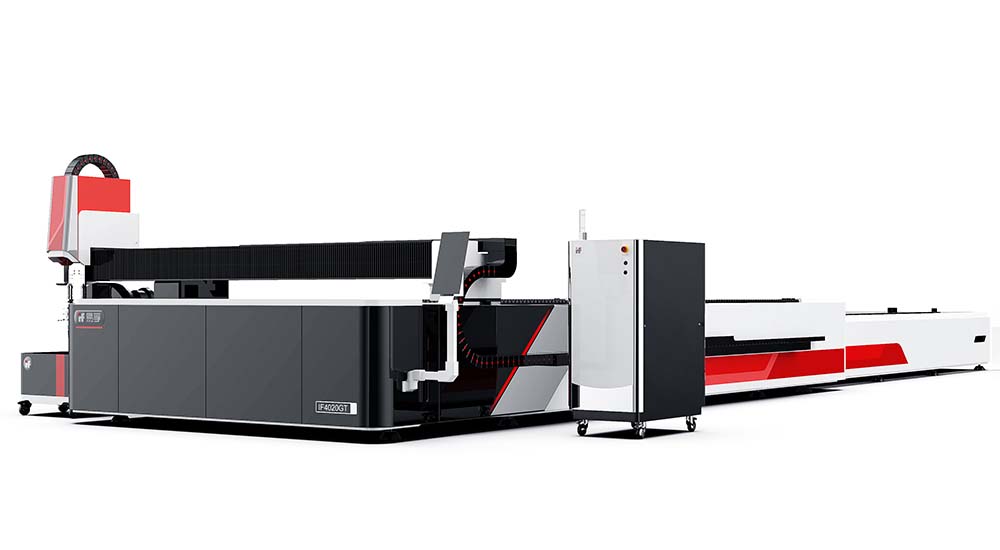 4020 fiber laser cutting machine for sale
Sheet and pipe fiber laser cutting machine with double worktable 4000*2000mm is a highly practical laser.For one thing,it is dual use laser machine capable of cutting sheet metal and pipes right in the same machine ,which saves shop floor space and cost for two separated laser machine. And the open double worktable can improve processing efficiency.The metal tube cutting capacity is widely used in sports equipment, various types of pipe, water pipes, oil pipelines and other industries, it is suitable to cut various special-shaped pipe materials such as round pipe, square pipe, rectangular pipe, oval pipe, etc. Customers can choose the size and power of the machine's workbench according to the size and thickness of the materials they need to cut.
Feature
1. To meet the processing requirements of pipes and plates, 4020GT can save more than 50% of the working space and improve production efficiency.
2. The laser electro-optical conversion rate is as high as 30%, realizing extremely low energy consumption and production cost.
3.The CNC cutting machine realizes the core technology of full-time cutting, high-efficiency cutting and high nesting rate cutting , which is the fundamental guarantee for effectively saving materials and improving cutting efficiency.
4. Equipped with a pneumatic full-stroke chuck, which can clamp pipes with a diameter of 10-160mm. With the high-precision servo deceleration system, the cutting effect is excellent.
5.The cutting head uses fiber laser special cutting head and capacitive sensor, which has high sensing accuracy, sensitive response, and the most stable and reliable performance.
6.The high-precision electronically controlled proportional valve imported from Japan can precisely control the air pressure of the cutting auxiliary gas to achieve the best cutting effect.
7.It adopts Cypcut CNC system, which integrates many special function modules for laser cutting control, with powerful functions, good man-machine interface and simple operation.
8. Accept customization of sheet cutting area and working platform size.
Application
Applicable industries:
4020GT sheet and pipe fiber laser cutting machine with double worktable is widely used in various machinery manufacturing and processing industries such as construction machinery, shipbuilding industry, gantry cranes, environmental protection equipment, refrigeration equipment, aviation equipment, automobile manufacturing, agricultural machinery, etc. aluminum, aluminum alloy, titanium alloy, copper, brass, iron and other metal materials.
Industry application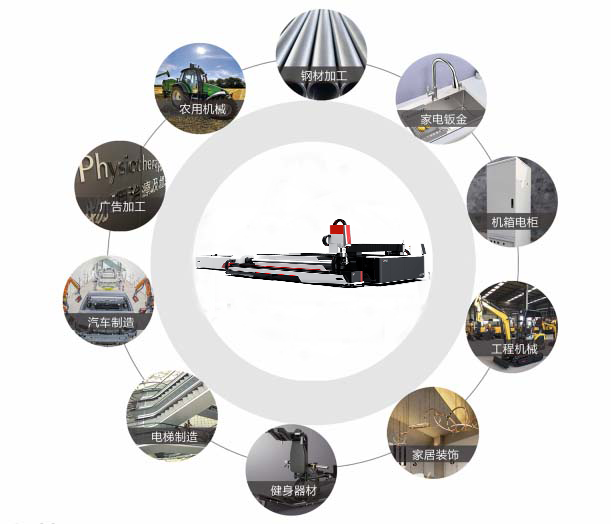 Cut exhibition