IF60160M metal tube & pipe laser cutting machine is used for cutting round tube,square tube and other metal tube. Pipe processing range 6000mm* φ10~110mm. IF-60110M professional metal tube laser cutter is equipped with fiber laser device, laser power from 1kw to 6kw. It can cut lines and holes with different diameters from different directions on the tubes&pipes and cut column and crossed lines at the end of branch pipe to meet centrifugal and non-centrifugal vertical intersection condition for branch and main pipe axis.It can cut inclined with the main circular pipe.It can cut branch pipe intersected with the main circular pipe.It can realize angle groove face, square hole, waist-shaped holes cutting.Two rotary tables use double driver synchronous drive, metal tubes are not easily destroyed when processing, with high precision and high processing efficiency. It can complete a variety of cutting shapes tubes, the tube surface arbitrarily complex curve graphics processing, graphics difficulty without restrictions. After cutting the tube section does not require secondary processing, it can be welded directly, greatly reducing the production period, creating enormous value for the enterprise. It adopts very thin laser beam which can be used on small part cutting and complicated patterns and reach to a polished effect.

Features
1.Automatic loading system. Realize the pipe material in bundles, precise cutting, save labor cost and improve efficiency.The material rack bears 3 tons, batch processing is pressure-free, and the workpiece is anti-scratch design.
2. Professional Full Double Pneumatic Chuck, intelligent pneumatic opening clamp,greater clamping force, no loosening or slipping of heavy pipes, adapting to tubes of different shapes.It is unnecessary to change claws while clamping 10-160mm tubes.Ultra-short tailings, saving the cost of raw materials.Conveying material is more stable, reducing non-production time and increasing productivity.
3. The chuck is clamped for precise cutting. The full-stroke pneumatic double chuck design doubles the efficiency; various specifications, support optional matching.
4. Integrated gas circuit control system with intelligent temperature control system to realize stable operation under various extreme weather conditions such as high temperature and low temperature.The intelligent dual temperature control cold water system realizes the independent control of the laser and the optical system, and realizes the stable operation in the harsh environment.
5. Man-machine interactive interface. The operation buttons are reduced and the operation panel is simplified; the intelligent manufacturing becomes at your fingertips.
6. It can process and cut a variety of different tube shapes, sizes and thicknesses. It supports high-precision and high-efficiency cutting of square tubes, round tubes, racetrack-shaped and elliptical tubes, as well as angle steel and channel steel.
7. Advanced CNC control system, it can read AI,PLT,DXF,Dst,Dwg and LAS directly, easy to operate.
Application
IF60160M metal tube & pipe laser cutting machine can cut the following metal tubes: round tube, square tube, rectangular tube, D-shaped tube, triangle tube, elliptical pipe and other diameter imaginable special-shaped pipe angle steel, channel steel and H-shaped steel.
Industry application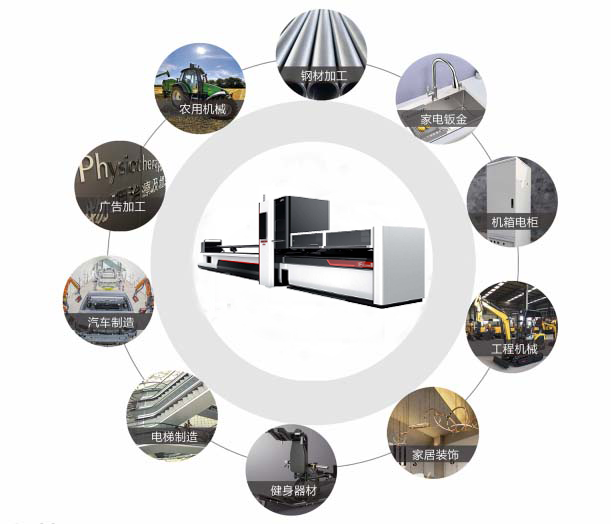 Cut exhibition