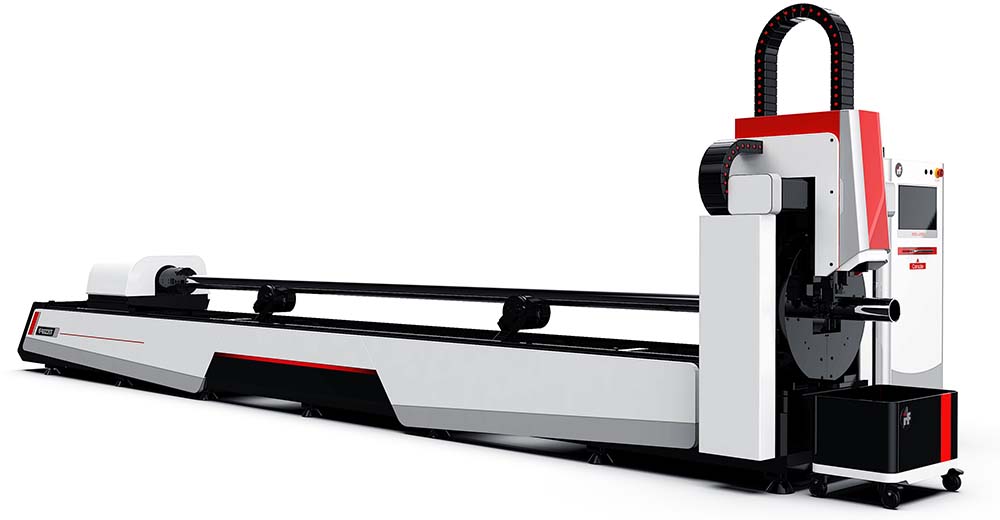 Laser pipe cutter uses computer-aided design software for graphic design, and imports the cutting machine operating system to automate cutting, maximizing the speed of manufacturing projects. The main working principle of the laser tube cutting machine is to use the thermal energy generated by the laser beam from the laser to cooperate with the motion mechanical system to cut the pipe. The cut pipe is controlled by the intelligent system, which can achieve the purpose of high-quality production.
Laser pipe cutter will replace mechanical drilling, milling, sawing, punching or cleaning of burrs and other processing procedures that require different metal pipe cutters and hard tools, and realize the cutting, chamfering, and cutting of complex pipe structures. The processing of slots or holes, notches, and other possible size and shape features.
Advantages
1.Semi-enclosed design optional, equipped with automatic lifting doors, which is convenient and at the same time guarantees the safety of workers
2.Heavy-duty welded bed, it can meet the high-speed operation of the machine without shaking.
3.The front end of the machine is surrounded by design to improve the dust removal effect.
4.It can cut lines and holes with different diameters from different directions on the tubes&pipes and cut column and crossed lines at the end of branch pipe to meet centrifugal and non-centrifugal vertical intersection condition for branch and main pipe axis.
5.It adopts very thin laser beam which can be used on small part cutting and complicated patterns and reach to a polished effect.
Application
Applicable industries:
The fiber laser cutting machine applicated in sheet metal processing, die-cutting, electronic,electrical appliance,aviation, cars,steamer, cutting tool, subway accessories, petroleum machinery, food machinery, craft gifts,tools processing, mechanical, elevator, decoration, advertisement, metal external processing and other manufactures.
Applicable materials:
The fiber laser machine is mainly used for cutting stainless steel, carbon steel, electrical steel, galvanized steel, aluminum zinc plate, aluminum, aluminum alloy, titanium alloy, copper, brass, iron and other metal materials.
Industry application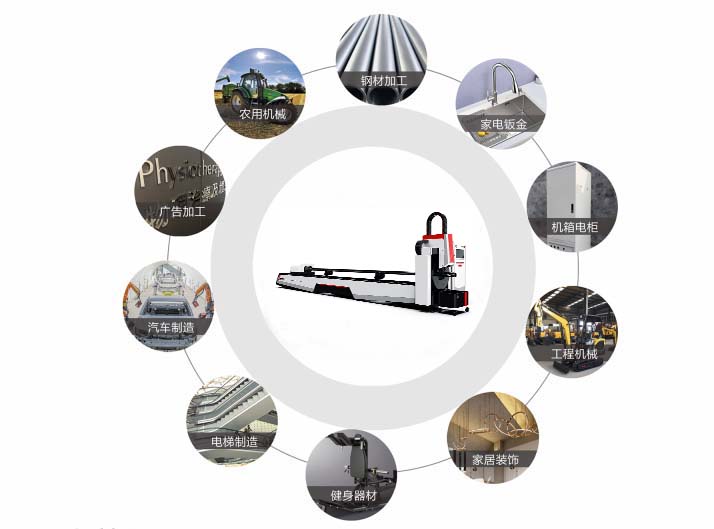 Cut exhibition