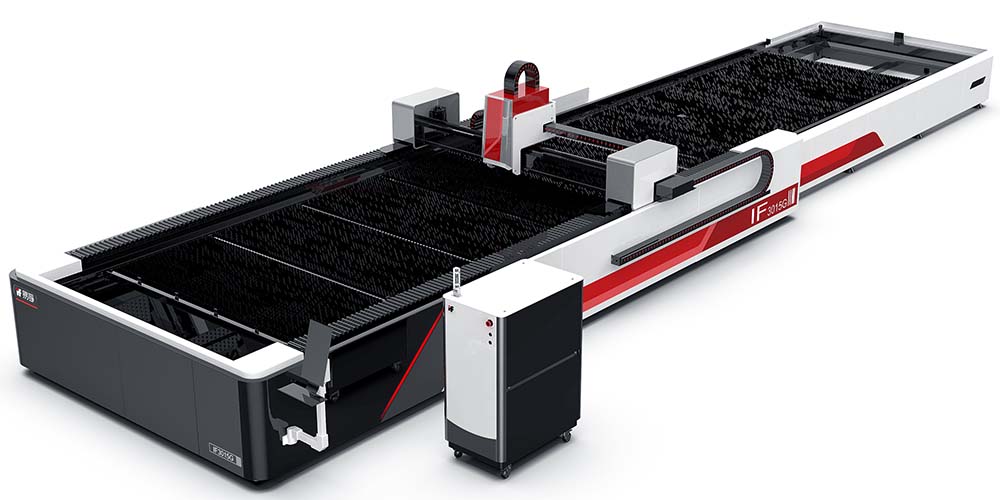 Fiber laser cutting machine for metal sheet has faster cutting speed and perfect cutting result compared to other cutting solutions like traditional flame cutting and plasma. IF-Fiber laser cutting machine is made of high quality high strength alloy steel bed with long term artificial aging, heat treatment and super finishing by advanced CNC machining center, its lightweight alloy aluminum cast crossbeam is so strong, rigid and tough that it can runs very fast and flexible to improve efficiency and processing quality.
Our fiber laser cutting machine adopts the most high performance fiber laser source and intelligent automatic following system. Our machine features high cutting speed, perfect cutting edge, excellent light beam quality, low performance cost and less energy consumption.
Features
1.Integrated structured design, the dual-working table reduces the loading and unloading time and moves sheets easily.
2.Stability and reliability of control system and light path system.
3.Excellent light beam quality. High quality focused laser beam ensures 0.15-0.2mm slim optical spot diameter for perfect cutting effects.
4.Low maintenance cost.The life time of stable and durable famous brand fiber laser power has up to more than 100 thousand hours life-cycle. Free maintenance saves time and cost.
5.Best performance and Low energy consumption.High photoelectric transformation efficiency of fiber laser is up to 28%, so its energy consumption is 20%-30% less than traditional CO2 laser of the same power.
6.Perfect cutting edge. little thermal deformation, smoothly and aesthetic appearance.
7.High precision. Serve motors, reducer, gear and rack, guide, bearings are imported from German or Japan to ensure the efficiency and accuracy, greatly increasing the stability and reliability.
Application
Applicable industries:
The fiber laser cutting machine applicated in sheet metal processing, die-cutting, electronic,electrical appliance,aviation, cars,steamer, cutting tool, subway accessories, petroleum machinery, food machinery, craft gifts,tools processing, mechanical, elevator, decoration, advertisement, metal external processing and other manufactures.
Applicable materials:
The fiber laser machine is mainly used for cutting stainless steel, carbon steel, electrical steel, galvanized steel, aluminum zinc plate, aluminum, aluminum alloy, titanium alloy, copper, brass, iron and other metal materials.
Industry application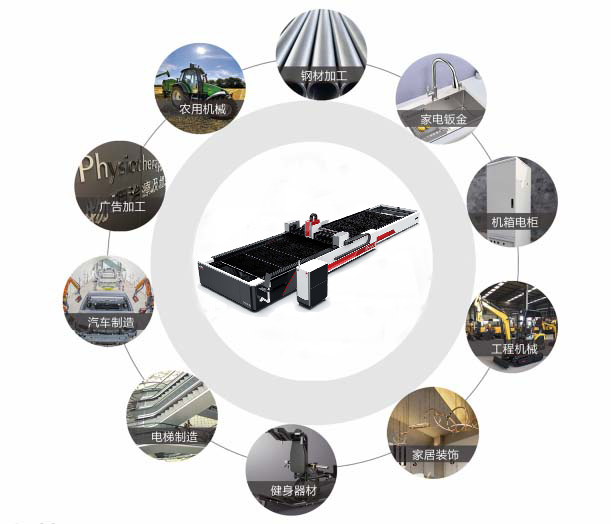 Cut exhibition